Ryperittet – Cowgirl Getaway
An exclusive women only – horseback ride holiday.
Bring your girl friends on a horse riding weekend adventure!
During the weekend before the annual grouse hunt starts, we organize a ladies only horse riding tour. We trek out into the frosty autumn air, across pastures and mountains, navigating our way along paths and over rivers. This is a luxury riding tour in the mountains for ladies who love to ride, with lots of good food and drink, we can promise a great weekend!
This is an adventure ride for women who enjoy mountains, great scenery and views. Suited to riders who are comfortable in walk, trot and canter. A great weekend away for groups of friends, riding school groups, colleagues, clubs or any ladies that love horses and nature.
DEPARTURES:
On request.
LEVELS:
For experienced riders.
PRICES FROM:
5300,- kr pp
Have a look to the season's program in our online booking!
Since this is an expedition, the route and as to where we end up will be a surprise!
What we do know is that we will be riding somewhere in the mountains, ride in fantastic scenery and have magnificent views. Enjoy good food and drinks with ingredients from local producers. On Saturday night there will be a special dinner and "after-horse" around the fire.
Day 1
Arrival at the farm in the afternoon / evening.
Check-in to the cabins.
We meet in the dining room, Salen, for a good meal and to discuss information about the trip. Meet the horses.
Day 2
We meet in the stables at 10:00 am. Greet the horses and get ready for the ride. Saddle-up and ride out on tour!
Where? – we don't know!
For how long? – we don't know!
It will be exciting! We'll bring lots of good food and drinks in the saddle bags for a long day out in the mountains. In the evening, a delicious gourmet meal is served. Among other things, we get to taste the grouse that comes from the area we ride in.
Sitting in candle light and listening to the crackling flames of the fire, we enjoy 'after-horse' and good stories.
Day 3
After a good nights sleep, we take a relaxing breakfast with real campfire coffee, then we pack up and saddle the horses. We say farewell to the mountains and head back towards the farm.
We arrive back at the farm about 13:00 pm where we un-saddle the horses and release them to pasture. Dinner before departure about 16:00 pm.
This tour is a bucket list experience for all horse ladies! Good food, nice company and wonderful horses make this an enjoyable weekend in Norway's most powerful mountain area.
All food is included in the price. The ingredients come from local producers and the food is home-made.
Drinks at breakfast and lunch are included. Drinks for the dinner on Friday night can be purchased in the bar. Bring your own drinks for dinner on the mountain.
If you need special dietary meals, we will arrange it, just let us know in advance.

What's included
Experienced guide.
Horse and riding equipment, transport of baggage. Food and drinks.
Accommodation.


What to bring
In the mountains the weather can be very changeable, even in summer. Therefore it is good to be prepared. See our recommendations HERE about what clothes to wear.

Who can join
Only for ladies.
Experienced riders comfortable in walk, trot and canter.
A luxury riding tour in the mountains for ladies who love to ride!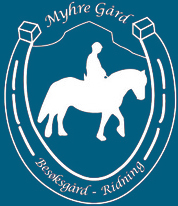 Myhre Gard
Nordheimveien 12
Skammestein 2950, Norway
(+47) 91 52 02 32