Riding Lessons – Become a better rider!
The feeling of full control over a 600 kg horse, working together as a team!
No matter if you are a beginner, novice or an experienced rider, we can give you a lesson tailored to your level.
LEVEL:
Beginners / intermediate / Advanced
PRICES:
Group lesson/Dressage form 2 pers: 450,- kr pp
Group lesson/Jumping from 2 pers: 500,- kr pp
Private lesson/Dressage: 650,- kr
Privat lesson/Jumping: 700,- kr pp
Children, adults, or mixed groups. You will help groom and saddle your horse and learn some new skills. (Remember to add this to your booking).
We offer lessons in dressage, jumping or just basic riding techniques.
We have a heated indoor riding arena, measuring 61 x 22.5 m with a public viewing gallery for spectators.
This is an excellent activity for chilly, rainy days or warm summer days.
If you want several lessons, please contact us and we can arrange a suitable package. It is also possible to stay at the farm for a riding vacation. Make your own riding camp. Let us know, and we will make it happen!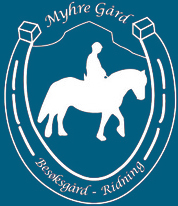 Myhre Gard
Nordheimveien 12
Skammestein 2950, Norway
(+47) 91 52 02 32