Let your dog enjoy his holidays at our farm in the mountains
With fresh air, plenty of space, and great walks in the forests and mountains.
We offer both short term and long term kennel stays.
DELIVERY AND PICK UP HOURS:
08:00-10:00 / 17:00-19:00
VACCINATION POLICY:
All dogs must be vaccinated prior to the stay. Please, present your vaccination card upon arrival.
Prices and offers for our kennel at Myhre Gård
Price list per 01.05.2018 (including 25% tax).
Prices apply per stated day. Price applies from arrival day to collection day. For instance from Saturday to Sunday it will be 700,- kr for the whole stay, regardless of the time when your dog is dropped off / picked up.
Our prices per day:
1 dog 350,- kr
2 dogs 600,- kr
3 dogs 850,- kr
Our prices in all holidays and public holidays, per day:
1 dog 400,- kr
2 dogs 650,- kr
3 dogs 975,- kr
Mid-week stay – Sunday to Friday* (not applicable during holidays)
1 dog 1500,- kr Sunday – Friday
2 dogs 2750,- kr Sunday – Friday
3 dogs 3500,- kr Sunday – Friday
*also possible Sunday-Thursday or Monday- Friday. Contact us, and we can make you an offer.
Day Care
Per dog each day 500,- kr
Per day, 2 dogs from the same owner 600,- kr
If you dog is staying for more than 1 week, we will give them a bath and brush at no extra cost.
For a stay of 21 days or more, you will automatically get a 10% discount.
Are you interested in dog training? We arrange different courses for hunting dogs, puppy training, and obedience classes. Maybe you and your dog club wants to arrange a training session or dog show? Let us know and we will help you arrange and plan your event with us.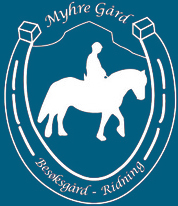 Myhre Gard
Nordheimveien 12
Skammestein 2950, Norway
(+47) 91 52 02 32