Banquet facilities
Confernese room
Indoor riding arena
Exhibition Venues
We offer excellent banquet facilities, conference room, meeting room, equestrian hall and exhibition spaces. All universally designed, surrounded by beautiful nature in fresh mountain air around Beitostølen, in the heart of the mountains of Norway.
We offer warm and cosy premises in peaceful surroundings on the farm.
 The conference and meeting room is located on the 2nd floor of the riding hall with a view into the indoor riding arena and stunning views of the mountains.
 The riding arena or exhibition hall is 60 x 26.5 m in size, heated and wood panelled, which gives a warm and pleasant feeling of the space. It also offers great views of Bitihorn and the surrounding mountains.
 We also offer on-site cabin accommodation on the farm.
 Perfect for an array of courses and training for both horse and dog. Enjoy the convenience of use of theory rooms, indoor course facilities and our outdoor terrain/farm and surroundings.
Suitable for celebrations such as birthdays, weddings, christenings etc. Theory room for courses and meetings. Exhibitions, fairs and concerts.
We are able to offer activities and team building competitions on the farm, perfect for large groups or for some entertainment during lunch or in the evenings during your stay. Please contact us for more information.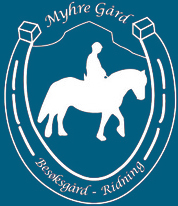 Myhre Gard
Nordheimveien 12
Skammestein 2950, Norway
(+47) 91 52 02 32