Learn to ride on our friendly horses and pony's
Myhre Gård is the perfect place to learn to ride or develop your riding skills. We have a large, heated indoor arena, a floodlit outdoor area, and great trekking routes starting from the riding center.
LEVEL:
Beginners / intermediate / Advanced
PRICES:
Whole year course, 30 hrs: 6000,- kr Half year course, 15 hrs: 3000,-kr
Customers who book the whole year course before week 36, get a 10% discount: 5400,- kr
Sibling discount -10% per 2nd, 3rd (etc) sibling
We offer lessons in dressage, jumping, driving and eventing. We also allow for time in the stables where we teach horse care and give lectures on equine related topics. We offer stable management courses in the weekends and holidays. Our courses are suitable for all ages; from toddlers to adults. From beginners to more experienced riders.
We have many different horses at our farm, differing in size, movement and temperament, to suit different riders and their needs. Our breeds include the three Norwegian breeds: Fjørd horse, Døla horse, and Nordland. The other breeds of horses that we have include the Knabstruber, Lipizzaner, Oldenberg, Welsh ponies, Icelandic ponies, Dartmoor and some cross-breeds.
For the youngest riders we teach through fun, games and activities. We go out for short treks around the farm which helps teach the youngsters to be confident and safe around the horses.
We also arrange weekend courses and organize competitions. The competitions provide a goal for the riders to train towards throughout the season. Riders also get an assessment of their level and guidance for further training.
Our riding school year follows the academic school calendar.
We start classes in September, week 36, and finish in the end of May. You can choose either a half-year course (15 hrs) or a whole-year course (30 hrs). Each riding lesson is 45 mins long. Please note that there is no riding classes held in the autumn holiday (week 40), Christmas holiday (week 49 to week 1) and the Easter holiday.
 Arrange with your instructor what level you should be on, when you sign up for a new course. You wont automatically switch to a higher level when the season is over. Every course is working further on the level they are already at. 
Prices: Half year course (week 36 to week 4, or week 5 to week 21) NOK 3000,-. Whole year course (week 36 to week 21) NOK 6000,-.
For those who register for the whole year course before week 36, you receive an Early Bird booking discount of 10%, reducing the price of the whole year course to NOK 5400,-.
We also offer a siblings discount, where each additional sibling receives a 10% discount.
Here is the schedule for the 2019 season
Register by completing the form on our booking online platform. Fill out the form as much as you can. The registration must be in writing and binding for the period you have signed up for. Ride courses are billed once per year. Payment can be divided into 4 instalments (this by agreement and the same KID number is used for each payment). Separate courses for adults are arranged and set up specifically. We reserve the right to make changes to groups and schedules during the riding school year.
Toddlers:
For the little ones. It is expected that a parent/guardian can assist in leading the child's horse. Training will be given on how to lead the horse. From 3 years.
Beginner:
For those who have never ridden before. It's useful if a parent/guardian can help to lead the horse in walk and trot for children under 10 years. Training will be given to parents on the first riding lesson of each semester.
Beginners with equestrian vaulting, varies between riding and vaulting. From 8 years. 
Novice 1:
Must be able to trot in control without a leader and without holding the saddle.
Novice 2:
Must be able to control the horse independently in trot and canter.
Advanced:
Must be able to control and influence the direction and gait of a horse in canter.
Adult women:
For adult women.
On request.
Building on these basic courses. We offer different levels of these courses which can be discussed further upon booking.
On request
Suitable for riders with a physical and/or mental disability.
We can offer anything from riding lessons or sessions on grooming and getting to know the horses.
Former customers have the chance to secure their place on the riding courses first, but they must confirm before 1st June. After this date we open up riding school places to new students. We reserve the right to make changes to the schedule.
We have helmets for loan. Back protectors are required when jumping or cross-country.
All students will receive information on their first riding school session regarding recommended clothes / shoes for use in the stables and during riding lessons.
Horseback riding and activities in the stables takes place at your own risk.
Myhre Farm has liability insurance.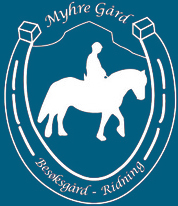 Myhre Gard
Nordheimveien 12
Skammestein 2950, Norway
(+47) 91 52 02 32