HOW TO DRESS FOR OUTDOOR ACTIVITIES
The weather in the mountains can change very quickly. On hot summer days, the weather can turn cold and rainy, and on cold autumn days, it can suddenly become hot and sunny. Therefore, it is important to be prepared for all kinds of weather regardless of the season.
It is also important to think about how physically active you plan to be in your activity. From high activity levels such as skiing or snowshoeing. To lower activity levels with a lot of sitting such as riding.
When riding, we also have some recommendations regarding clothing and shoes to ensure your safety and comfort.
Here are some tips on how to dress for the different seasons:
Base layer, here we recommend wool which is a breathable and warm. Never cotton or synthetic material.
Then a thicker layer such as fleece or additional wool garments.
We recommend down/insulated trousers and jacket that are also windproof. Remember to have a windproof jacket as your outer layer.
Good woollen socks. Choose thick socks or two pairs if you have spacious shoes.
Warm winter boots. The boots should not be too tight, even when wearing thick socks. Shoes that fit correctly have space for warm air which is what insulates and keeps your feet warm.
Neck warmer / buff.
Warm and windproof hat and gloves that are not too tight.
Sunglasses can be useful. Not just on sunny days, but also on cloudy days as the snow reflects the light so that we can get the feeling of very bright light.
During the riding tours, we recommend thick wool base layers, then a good, warm intermediate layer. It's important that you have plenty of space in your clothes and that there are not too many seams in the inside thigh. Smooth fabrics are also good to avoid. As footwear, we recommend boots that they have a heel and go over the ankle. Feel free to wear a thin warm hat or headband / buff that you can wear under your helmet.
In the summer we have many nice warm days, where bikini, shorts and t-shirts are sometimes the most appropriate clothing for activities in the mountains.
But be prepared and bring some extra clothes. Such as:
Thin wool sweater and thin fleece. Thin woollen tights
Windproof jacket and trousers. Rain clothes on days when rain is forecast.
Thin wool socks
Buff, thin hat, headband, gloves.
Good comfortable shoes.
During the riding tours we recommend to ride in trousers with few or no seams inside the thighs. Shorts or trousers of thin material can be uncomfortable to ride in. Also, if possible, boots with a heel that go over the ankle.
These seasons can be the most difficult time to dress appropriately for. But again, always have some extra clothes in the bag. Be prepared for rainfall if it is forecast.
If you have any questions regarding clothing, or need some advice in preparing for your trip, please contact us and we can give you advice on what to bring. We may be able to help arrange clothing for you.
We have helmets for everyone and safety vests for the children, that are available to borrow free of charge!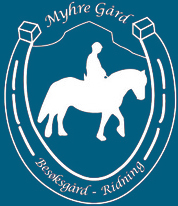 Myhre Gard
Nordheimveien 12
Skammestein 2950, Norway
(+47) 91 52 02 32