Myhre Gård arranges various weekend courses during the autumn, winter and spring season.
We have horses of all sizes and different breeds. Here you will find something for everyone. We have authorized riding teachers on the farm who can adapt the teaching for all levels. The farm is located 4km from the urban mountain village, Beitostølen, where there are exciting shops, cafes and restaurants. Maybe it's tempting to combine weekend courses with skiing, mountain climbing, training or just relaxing in nice surroundings.
RECOMMENDED AGES:
Children course: 8– 13 years
Youth course: 14 – 18 years
Adult course: 18+ years
PRICES:
Standard package: from 1650,- kr
Upgraded package: 2350,- kr
Exclusive package from: 3500,- kr
Click for more information about the individual weekends!
We arrange several different weekend courses throughout the autumn, winter and spring period.
Among other things:
Adult course

Mother / daughter

Jumping / dressage course for children and young people.

Family weekend

Farm holiday
Lessons and groups are arranged by level. From beginners to advanced riders.
At our farm, all the horses go together in a herd. It is to create a healthy and safe environment, with well-being. We have chosen to focus on different types of horses, in different sizes. Everyone has to work in all areas, but some are better suited for jumping and dressage. This is to have a broader offer in teaching, both for children and adults.
The courses take place either indoors in the riding arena, 22.5x60m heated riding hall with ecotrack riding pads, gallery and function room. Or on the outdoor arena, 20x40m.
For more information about the courses, press the orange button on the left.
The courses are also announced on Myhre Gård's facebook page.
Accommodation:
We have 4 cabins with 3 bunk beds, 6 beds in each. The cabins are equipped with a dining area, coffee maker or electric kettle and refrigerator. Shared kitchen and bathroom in the function room. Modernized with full equipment.
On all our courses it is possible to bring your own horse. We have two heated stables with room for 24 horses, washing area for the horses and saddle room. Included in the price is box rental, paddock and bedding. Forage comes as an addition to the price. You must bring your own additional feed.
Program:
The courses usually start with arrival on Friday, where we "get to know" each rider's experience and expectations for the weekend.
Saturday: Two riding sessions and theory on current topics.
Sunday: A riding session. Departure.
The courses are set up so that everyone receives follow-up and feedback on their challenges. Both in theory and practice.
Detailed program with the lessons, is posted in advance of each course, in relation to the number of participants.
Prices:
Standard Package
On all our weekend courses, the standard package is NOK 1650. This includes all riding lessons, horse rental or hall rental for brought horse.
Upgraded package
Costs NOK 2350, including all riding lessons, horse rental / hall rental for brought horse + accommodation on the farm.
Exclusive package
Includes everything, costs 3500kr. Includes all riding lessons, horse rental / hall rental for brought horse, accommodation and all meals.
Stables for your own horses are in addition to the packages you choose to order.
Daybox: 150kr per day
Overnight stay: 175 kr per day.
Do you want to rent our facilities?
We have isolated and heated indoor riding hall of 61 * 22.5 m with ecotack riding bottom. Separate gallery for spectators. Banquet room with space for about 100 people, with modern toilets / bathrooms and kitchen. Outdoor riding arena 20×40 and riding trails in all directions. Stables with space for 24 horses, washing room for hoses, saddle room, heated wardrobes and drying room. Contact: post@myhregard.com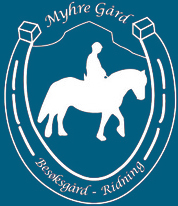 Myhre Gard
Nordheimveien 12
Skammestein 2950, Norway
(+47) 91 52 02 32