Banquet facilities – Conference room
Banquet room – Conference room and Meeting room in cosy farm surroundings
Facilities to accommodate any medium to large event, celebration, fayre, exhibition, or equine or canine course, in Beitostølen, the heart of Norway.
HEATED INDOOR ARENA:
60 x 26,5m with great views

FULL EQUIPE
Celebrations for up to 100 persons

Are you looking for a function room that creates a great setting for your celebration? Our modern function room facilities are located in beautiful surroundings on the farm with a view to the mountains.
Or do you need a meeting room or course room for theory?
The room is suitable for events, hosting anywhere between 5 to 100 people. Universal designed with everything you need to arrange your company or meeting / course.
Function room – Myhre Gård is located only 4 km from the year-round destination of Beitostølen. Located in Valdres, right in the heart of Norway. With proximity to the mountains and good course facilities, we offer a perfect setting for your event.
On the 2nd floor of the riding hall is the function room – the conference room, which we call the Hall. A modern designed, spacious room that gives you a lodge feeling! There is a large glass window into the riding hall, where you can look down to watch riding lessons, and horse training. Looking through the windows at the far end of the riding hall you get a panoramic view of Beitostølen and the mountains. With a maximum ceiling height of 7m, you get an exclusive room feeling. The room is lit by spotlights in the ceiling, and there is a stone-paved floor that compliments the dark wood-stained walls.
 There is an area of 11 x 15 m used for table seating, with a bar counter / buffet. The whole room measures 11 x 26.5 m, in addition there is also a fully equipped kitchen with large cold room, separate dishwashing room, 2 toilets, wardrobe and office.
 On the floor below there are also 2 bathrooms with toilets, which can be used.
 We also have 4 simple cabins that can accommodate 6 people in each cabin. As well as a storage room and an extra bedroom attached to the farm building, if more beds are needed.
 How about staying up in the mountains?
 If you want an even more authentic setting for your event, we have a small farm in the mountains, where we arrange parties for suitable occasions.
 A cosy stable yard with 2 stable houses, barn and beautiful living stable landscape!
 Get in touch if you are interested in creating a unique celebration!
The hall – function room, courses and meeting rooms:
Laser projector with sound system.
Portable sound system.
Wifi.
Service and cutlery for 120 people
4 x round tables for 10 people. 3 x round tables for 8 people. 4 x round tables for 4-6 people. 6 x rectangle tables for 6 people.
Chairs for 120 people.
Simple seating areas
Do you need serving staff / bartender for your event?
We can help you get extra help, should you need it.
Do you want catering?
If you do not want to cook the food yourself, we can give tips for good dining experiences, through all the catering suppliers in the area. It is also possible to hire a chef to come on site during dinner service.
Here you can also get help to put together the menu and wine recommendations, if desired.
Do you need a "kick off" or activity for the event?
We can help you! On the farm we offer a range of activities with or without the horses. Both competitions, experiences, team building tasks etc.
We can help you plan your event!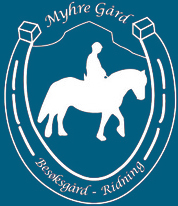 Myhre Gard
Nordheimveien 12
Skammestein 2950, Norway
(+47) 91 52 02 32