Day activities Summer / Autumn
An outdoor or indoor activity perfect for the little ones
A perfect way to ensure your child gets a safe and fun introduction to horses. Great for the little ones with no previous riding experience.
Meet your new four-legged friend, and learn about horses. Enjoy a lovely gentle ride with spectacular views.
DEPARTURES:
Everyday. 12:00am, 13:00pm and 15:00pm
LEVEL:
Beginners / intermediate
PRICES:
Riding 400,- kr pp
Share the experience: 50,- kr pp
A lovely trip for families with small children, or those that are new to riding. The tour goes over easy terrain making it a suitable trip for beginners or those with little riding experience.
The trip is scheduled 3 times per day. The route of the trip varies depending upon the starting point.
At the start of the trip you will be welcomed by one of our experienced guides, who will give you an introduction to the trip. They will tell you about our horses and you will be then assigned to your horse for the trip.
You will get a basic introduction on how to start, stop and steer the horse, before heading out on the trip. Riding time is approx. 30 min.
Older children and/or those with some experience and adults, can ride alone. However young children and inexperienced riders will have someone to lead their horse. This can be either a trek assistant or a parent. Parents will get an introduction on how to lead the horse safely.
If you want to ride yourself but would like one of our trek assistants to lead your child's horse, please remember to book this in advance.
If you want to share this experience with your family or friends, but unsure whether riding is for you, you can join the trip by walking alongside.
Horse grooming and tacking-up. Why not spend a little extra time getting to know your horse?
(This applies to the trips starting at 12:00, with the horse grooming starting at 11:00).


Who can join
This tour is for all ages. From 2 years old to adults. The tours are set up in groups according to rider experience level.
An outdoor or indoor activity perfect for the little ones with no previous riding experience.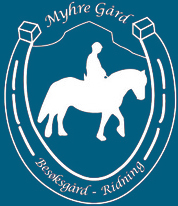 Myhre Gard
Nordheimveien 12
Skammestein 2950, Norway
(+47) 91 52 02 32