Horseback ride in the snow
Day activities Winter / Spring
Family-friendly horse riding tour in the frozen winter wonderland
Hear the soft sounds from horse hooves treading in the snow. Breathe in the fresh mountain air and enjoy the amazing Norwegian nature. A great nature experience for all ages.
Family-friendly horseback trek in the frozen Norwegian nature, hands on experience, an activity you shouldn't miss when you are in Norway!
The pace of the trip is matched to the experience level of the participants.
DEPARTURES:
Everyday. 10:00am and 15:00pm
LEVEL:
Beginners / intermediate / Advanced
PRICES:
Riding: 675,- kr pp
Share the experience: 150,- kr pp
A "hands-on" experience that is exciting for the whole family. Get to know your horse for the day and help get them ready for the trek. The trek takes you through beautiful surroundings around our farm. In the case of bad weather we can take the ride in our heated riding hall which is the perfect place to develop your riding skills. The tour is organized twice a day.
You'll be met at the farm by one of our experienced guides. She will tell you a little about our horses and you will be assigned your "own" horse for the trip.
For those with no prior horse experience, your guide will show you how to brush and saddle your horse. Then its time to mount up and start the trek. You guide will tell you how to stop, start and turn the horse.
If you have questions, just ask along the way.
Riding time: 60 min.
 Older children and/or those with some experience and adults, can ride alone. However young children and inexperienced riders will have someone to lead their horse. This can be either a trek assistant or a parent. Parents will get an introduction on how to lead the horse safely. If you want to ride yourself but would like one of our trek assistants to lead your child's horse, please remember to book this in advance.
 A great outdoor or indoor activity for small children or the whole family to share together.
If you want to share this experience with your family or friends, but unsure whether riding is for you, you can join the trip by walking alongside.
If you want an authentic winter experience that includes riding and making a campfire checkout our Winter mountains exotic horseback ride.
If you want to spend more time with the horses, take a longer riding tour, or meet the other farm animals, we suggests the Farmers day camp.


What to bring
In the mountains the weather can be warm and dry, but on other days it can be cold, wet and windy. The weather can also change fast. Please read our recommendations here on how to dress for a riding tour.

Who can join
This tour is for all ages. From 4 years old to adults.
Discover and enjoy our family-friendly horse riding tour in the frozen winter wonderland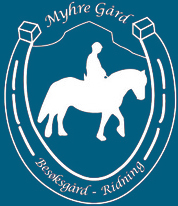 Myhre Gard
Nordheimveien 12
Skammestein 2950, Norway
(+47) 91 52 02 32