Half-day summer riding package with lessons and trail ride.
Half-day summer riding package gives you the possibility to take part in  preparing your horse in the stables, before riding. And learn about our great friendly horses in a safe environment.
Horseback riding package is perfeckt if you not only want to experience horseback riding but also get to know the horse, groom him and do a ride inside the arena befor hiking out for a trail ride. 
Family-friendly horseback adventure, hands on experience, an activity you shouldn't miss when you are in Norway!
The pace of the trip is matched to the experience level of the participants.
DEPARTURES:
Everyday. 09:30am and 16:00pm
LEVEL:
Beginners / intermediate / Advanced
PRICES:
Riding: 975,- kr pp
Share the experience: 150,- kr pp
Group discount from 5 people.
Half-day horseback riding package with lesson and trail ride, can be adapted to both beginners and practiced riders. Great activity for adults and children togethter.
A perfect "hands on" experience if you want to combine riding inside the warm, cozy riding hall or the outside arena, followed by a horseback ride in the forest. Where you have the opportunity to learn more about riding, before testing new knowledge.
For experienced riders, we adjust the level of activity to the riders. And also the riding time inside the arena and trail ride will be adjusted as what you want most.
On this trip, you get more riding time, compared to the activity; Horseback riding for the trolls.
The tour is arranged twice a day. Where we ride varies according to the level of the group
Meet the horses in the stable, get to know them and learn a little about their behavior and instincts. The guide will be happy to answer any questions you may have.  Then you get to brush and take care of your "own horse", and learn how to saddle.
When everyone is ready, we take the horses to the arena, here you will learn the basics of how to start, stop and turn the horse. If you're extra brave, it's an opportunity to try to tott a bit.
When everyone is comfortable and ready, we ride out for a trail ride.
After the trip we enjoy a cup of hot drink and the guide can tell a little more about things you are wondering about the horses.
Riding time +/- 1,5 h.
Older riders with some experience and adults, can feel free to ride themselves. While young children and inexperienced riders will be leeded by parents or by us. Parents will get an introduction to how to leed the horse. We are happy to leed the horse for you, remember to book this in advance.
If you want to share this experience with your family or friends, but unsure whether riding is for you, you can join the trip by walking alongside.
If you want an horseback ride experience that includes riding and making a campfire checkout our Half-Day Horseback Ride
If you want to spend more time with the horses, take a longer riding tour, or meet the other farm animals, we suggests the Farmers day camp.


What to bring
In the mountains the weather can be warm and dry, but on other days it can be cold, wet and windy. The weather can also change fast. Please read our recommendations here on how to dress for a riding tour.

Who can join
This tour is for all ages. From 4 years old to adults.
Discover and enjoy our family-friendly horse riding tour in the frozen winter wonderland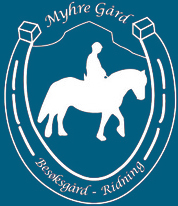 Myhre Gard
Nordheimveien 12
Skammestein 2950, Norway
(+47) 91 52 02 32