Day activities Summer / Autumn
Family friendly horseback riding tour in cowboy country, with a cozy campfire break
Join us on this popular hands-on adventure trek in the mountain pastures. Maybe we'll meet some animals along the way!
Get time to know your horse and learn how to interact with them, just like a real cowboy. The difficulty of the tour is adapted to the experience of the participants: beginners, intermediate, advance.
DEPARTURES:
Everyday. 10:00am and 14:00pm
LEVEL:
Beginners / intermediate / Advanced
PRICES:
Riding:
Adult 1050,- kr pp
Youth/children 975,- kr pp
No riding: 350,- kr pp
Spend a day riding your "own" horse and experience how friendly and sensitive these strong but gentle animals are. Whether you are a beginner and this is your first time riding, or are an experienced rider and want some excitement, this is the trip for you! An active half-day trip experience for the whole family.
Sitting on reindeer skins around a cozy camp, listening to the campfire crackle away, with the sounds and scents of horses. Take a moment to relax, enjoy a hot drink, and discover your inner cowboy.
The trek goes over both mountain trails and gravel roads. On hot days take a refreshing dip in the mountain lake Javnin. Or climb up Synberget with stunning views of Beitostølen, Mugnatind, Bitihorn, Olevann, Skaget and the southern lowlands.
This riding tour is arranged twice a day.
The morning tour starts with getting the horses ready for a day in the mountains. Brushing and saddling them like a real cowboy!
If attending the afternoon trip, after the trek you will help unsaddle and groom the horses, before releasing them back to their night pasture and watch them run, jump and roll around, happy and relaxed after a day in the mountains.
Your guide for the day will meet you at the farm, where you will receive some practical information about the trip. You will then be give the necessary equipment you need, and pack your food, drink, and trip essentials into the saddle bags. Once you have been assigned your horse for the day, beginners will receive instructions from the guide on how to start, stop and turn. Then you're ready for the trip.
Halfway through the trip we arrive at Heimre Hedalsstølen, an old traditional mountain farm in Valdres from the early 1700s. Here we make camp! First we feed and water the horses before we head for the campfire, enjoy a snack and a hot drink. Your guide is happy to answer any questions about the horses and the area. Maybe she also has some stories to tell. When everyone is feeling refreshed and relaxed after a break, we start the trek back to the farm. Then it's time to give your goodbye hugs to the horses and thank them for the trip. Maybe you'll see them again soon. The route of the trip varies depending upon the departure point and the riding ability level of the guests.
TIf you want to share this experience with your family or friends, but unsure whether riding is for you, you can join the trip by walking alongside.
What about a hot wilderness meal out in nature? Enjoy a delicious stew heated up over the campfire flames. (Must be pre-ordered)
Our experienced guide will give you a basic introduction on how to start, stop and steer the horse, before heading out on the trip. Older children and/or those with some experience and adults, can ride alone. However young children and inexperienced riders will have someone to lead their horse. This can be either a trek assistant or a parent. Parents will get an introduction to how to lead the horse safely. If you want to ride yourself but would like one of our trek assistants to lead your child's horse, please remember to book this in advance.

What's included
Experienced guide.
Coffee, tea and hot water for the cacao.

What to bring
Please read our recommendations here on how to dress for a riding tour.
For the snack break please bring with you something to eat/grill and drink.

Who can join
This tour is for all ages. From 4 years old to adults. The tours are set up in groups according to rider experience level.
Discover and enjoy our family friendly horseback riding tour in cowboy country, with a cozy campfire break.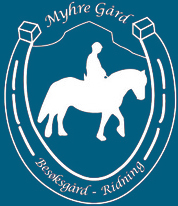 Myhre Gard
Nordheimveien 12
Skammestein 2950, Norway
(+47) 91 52 02 32