Day activities Winter / Spring
A unique half-day riding trek in the winter wonderland
Hear the soft sounds of the horse's hooves in the crispy snow. Feel the tickling sensation of the cold air and see the air sparkle with frozen ice crystals. Make a cozy winter camp around a fire and enjoy a tasty meal in the wild. Immerse yourself in the beautiful nature at the edge of the Jotunheimen and Langsua national parks.
An unforgettable adventure for you and your family, friends, colleagues or take your partner on a romantic tour in this amazing environment.
Join us on this popular hands-on adventure!
DEPARTURES:
Everyday. 11:00am
LEVEL:
Beginners / intermediate / Advanced
PRICES:
Riding: 858,- kr pp
Share the experience: 350,- kr pp
You are awarded your "own" horse for the day. Experience how friendly and sensitive these strong animals are. Maybe you are a beginner and looking to go on your first ever horse ride, or maybe you are an experienced rider who is looking for a fast paced trip full of excitement. This trip can be tailored to suit any level of riding experience. A great family trip for everyone to join in the fun.
Hear the soft sounds from the horse's hooves treading in the snow. Feel the cold refreshing mountain air on your face, and see the air glisten with ice crystals. Halfway through the trip we stop to make a campfire, where we cook a tasty meal out in the wild.
One of our experienced guides will meet you at the farm. You will then be given important practical information about the trip and provided with all the necessary equipment you need for the ride. The guide will help you pack your things into the saddlebags, before introducing you to «your» horse for the day. You will help brush, saddle and make your horse ready. For beginners or those with little riding experience, your guide will teach you how to handle the horse on the ground, how to mount, and how to steer and control the horse. It's then time to mount the horses and head out on the trek.
Halfway through, we take a break at one of our traditional mountain farms, Heimre Hedalsstølen, originating from the 18th century. We give the horses a little snack, make a day camp and sit around an open fire. Enjoy a warm meal and a hot drink. Sit back and relax. Your guide will be happy to answer any questions about the horses or the local area. Maybe she even has some stories to share.
After the meal and rest, its then time to mount the horses again and head back to the farm. Then we give the horses a pat and a cuddle to say thanks for the trip. Maybe you'll see them again?
The tours are divided into groups to match the experience of the riders. For advanced riders we can arrange trips with trotting and canter. This trip can also be run at a slower pace for beginners and younger children 4 years and over. Remember to book the tour that suits you.
Older children and/or those with some experience and adults, can ride alone. However young children and inexperienced riders will have someone to lead their horse. This can be either a trek assistant or a parent. Parents will get an introduction on how to lead the horse safely. If you want to ride yourself but would like one of our trek assistants to lead your child's horse, please remember to book this in advance.
If you want to share this experience with your family or friends, but unsure whether riding is for you, you can join the trip by walking alongside.
Why not add to the authenticity of your trip with a wilderness meal, served over the open fire. Must be pre-ordered.
Want to spend a little longer time getting to know our friendly farm animals? Check out our Farmers Day Camp or our Farm Holiday Packages.
Are you based in Oslo? Book your Horse Back Riding in the Snow – Day Trip from Oslo here.

What's included
Experienced guide, coffee, tea and hot water for the cocoa.

What to bring
In the mountains the weather can be warm and dry, but on other days it can be cold, wet and windy. The weather can also change fast. Please read our recommendations here on how to dress for a riding tour.
For the snack break please bring with you something to eat and drink. For example, sausages to grill on the fire, snack bars, cold drinks, cocoa mix and a cup.

Who can join
This activity is for all ages. From 4 years old to adults.
Discover and enjoy our unique half-day riding trek in the winter wonderland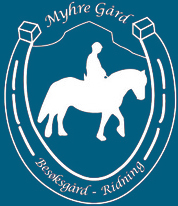 Myhre Gard
Nordheimveien 12
Skammestein 2950, Norway
(+47) 91 52 02 32