Day activities Winter / Spring
Care for and cuddle the animals, take a riding trek or lesson, an exciting day of farm activities for children of 4 years and older
Visit the animals at our traditional farm in the heart of Norway. Cuddle them, feed them, and groom them. Learn more about cows, sheep, goats, pigs, rabbits and dogs.  Maybe you`ll find a new friend!
Even join us for a ride on one of our friendly horses.
An activity for the whole family. This activity is fully supervised by our trained staff, making it a great activity for kids to attend without the supervision of parents, giving you parents a little time to spend alone.
This activity is perfect for all days regardless of the weather. In the case of bad weather we have a heated indoor arena where the activities can take place.
DEPARTURES:
Everyday. 09:30am
LEVEL:
Beginners / Easily practiced / Advanced
PRICES:
Price: 4 hrs – 850,- kr pp / 6 hrs – 1150,- kr pp
Share the experience: 4 hours – 150,- kr pp / 6 hours – 350,- kr pp
Meet our friendly horses, cuddle with the rabbits and play with our inquisitive goats. Learn more about all of our farm animals. A fun and educational day activity. Guests also get a ride on one of our child-friendly ponies.
Program for the day
We offer either 4 hour or 6 hour camps.
The 4 hour camp usually starts in the morning, however it can be arranged for the afternoon if booked in advanced. During this camp you get to spend a lot of time with the animals, and a 2 hr horse trek through the forest, or a riding lesson in our indoor arena. We provide hot drinks and snacks. Feel free to bring your own cold drink or your own snack preference.
The 6 hour camp starts in the morning. During the camp you get to spend a lot of time with the animals, learn to groom and saddle the horses, and take a 4 hour pony trek to make a picnic spot, or a riding lesson in the indoor arena. Hot drinks and snacks are included. Feel free to bring your own refreshments, snacks, or sausages to grill on the campfire.
If you want to share this experience with your family or friends, but unsure whether riding is for you, instead of riding you can join the trip by foot, and take part in the other activities as normal.
Our experienced guide will give your child a basic introduction on how to start, stop and steer the horse, before heading out on the trip. Older children and/or those with some experience and adults, can ride alone. However young children and inexperienced riders will have someone to lead their horse. This can be either a trek assistant or a parent. Parents will get an introduction on how to lead the horse safely. If you want to ride yourself but would like one of our trek assistants to lead your child's horse, please remember to book this in advance.
Did you make a new 4-legged best friend and want to see them again? Come and join a multi-day Riding Camp or our Farm Holiday with winter activities. Tell us, and we will make it happen!

What's included
Experienced guide, coffee, tea and hot water for the hot chocolate.

What to bring
In the mountains the weather can be warm and dry, but on other days it can be cold, wet and windy. The weather can also change fast. Please read our recommendations here on how to dress for a riding tour.
For those joining the 6 hour camp you'll need to bring with you something to eat/drink for our lunch camp stop. Feel free to bring sausages to cook over the campfire, a packed lunch, a cold drink, or hot chocolate.

Who can join
This tour is for all ages. From 4 years old to adults.
Discover and enjoy with your family our exciting winter day full of farm activities.
For children of 4 years and older.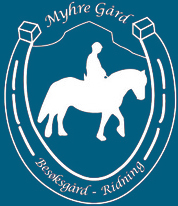 Myhre Gard
Nordheimveien 12
Skammestein 2950, Norway
(+47) 91 52 02 32