Exploring Huldra's Kingdom
A 2 days adventure horse trek in the Mountains of Norway
Riding in the surroundings of Beitostølen, in the wilderness of the foothills of the Jotunheimen and Langsua national parks.
The mysterious legends of the Trolls and the Giants.
The perfect outdoor adventure for those who want to experience more than a single day trip.
Maybe this is you and your family's first overnight riding expedition? It's also a perfect trip to take with friends, colleagues, or your partner.
The pace of the trip is matched to the riding experience of the participants.
DEPARTURES:
Morning trip at 09:00 am
Afternoon trip at 03:00 pm
For a tour program, see online booking.
Tours are also set up upon request.
LEVEL:
Beginners
Intermediate
Advanced
Nice family activity!
(Devided into gruoups by level)
PRICES FROM:
Morning trip: 3200,- kr pp
Afternoon trip: 2500,- kr pp
Share the experience: 1000,- kr pp
Family/Group discounts from 5 people, check online booking!
The trek route departs from our farm close to Beitostølen and heads inland towards more mountainous terrain. Along the way you'll enjoy great views towards the Jotunheimen and Langsua national parks. When joining the trip in Spring you'll experience a lush green landscape, with new flora sprouting up contrasting the snowline high up in the big mountains. During the autumn, you'll be riding through the beautiful autumnal colors with views to mountain peaks covered in fresh snow.
There are two departure times to choose from for this trip:
You can choose to depart in the morning which gives you more hours in the saddle, or select to depart in the afternoon, which shortens the riding time, recommended for families with young kids.
On both tours, one of our experienced guides will meet and welcome you at the farm.
She will help you pack your equipment into the saddlebags, and after initial, necessary instructions, pair you up with a suitable horse according to your size and riding ability. You will be shown how to prepare your four-legged companion for the trip.
The guide will also give you details about the forthcoming trek and will be happy to answer any questions you may have. It's then time to mount-up and head off on the adventure trek.
On the morning departure treks, halfway through we stop to make a day camp. We give the horses a snack and make sure they are comfortable, before we light a camp fire and enjoy a hot meal and a warm drink.
Your guide will be happy to answer any questions about the horses or the local area. Maybe she will even have some stories to tell.
At the end of the day we arrive at our traditional mountain farm which will be our retreat for the night. There is no electricity in the cabin, but we guarantee a cozy warm atmosphere with candle lights and a fire place.
Whilst you relax after a day in the saddle, you can listen to and watch the horses grazing outside in the mountain pasture.
The following morning your guide will meet you after breakfast. You will pack your things and groom and saddle the horses. Then it's time to begin our trek back to the village. We will be at the farm around lunch time 12:00 am – 01:00 pm.
The tours are divided into groups by level. For experienced riders we will increase the pace where it`s suitable. Be sure you book a tour suitable for your riding ability.
If you want to share this experience with your family or friends, but unsure whether riding is for you, instead of riding you can join the trip by foot, and take part in the other activities as normal.
Our experienced guide will give your child a basic introduction on how to start, stop and steer the horse, before heading out on the trip. Older children and/or those with some experience and adults, can ride alone. However young children and inexperienced riders will have someone to lead their horse. This can be either a trek assistant or a parent. Parents will get an introduction on how to lead the horse safely. If you want to ride yourself but would like one of our trek assistants to lead your child's horse, please remember to book this in advance.
Upgrade your adventure by pre-booking all the meals your need during the trip. Taste our amazing wilderness meal for your evening dinner. Must be pre-booked.
If you choose to arrive a day ahead of your adventure, you will get the chance to meet and bond with «your» horse earlier. Feel free to book one of our cozy cabins.
Extend your stay and get the opportunity to join other activities such as dog sledding on wheels, mountain hiking, water activities, mountain biking and many more. Check out Farmers Life. Or test your riding skills with a riding lesson the day before your adventure.

What's included
Experienced guide.
All equipment needed, transportation of baggage.
Accommodation

What to bring
Sleepingbags or rent them. About cloths, the weather in the mountains can change fast. Please read our recommendations here on how to dress for a riding tour.

Who can join
This tour is for all ages. From 4 years old to adults. The tours are set up in groups according to rider experience level.
Discover and enjoy this perfect outdoor adventure for those who want to experience more than a single day trip.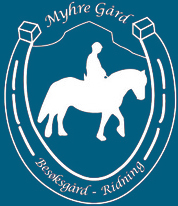 Myhre Gard
Nordheimveien 12
Skammestein 2950, Norway
(+47) 91 52 02 32