Explore Winter Farmer's Life
An exciting winter holiday package with great farm activities, hands on experiences and horseback riding in the snow, in the heart of Norway. At the edge of Jotunheimen National park.
Whether you are a family, friends, individual or looking for a romantic getaway for you and your partner. Come and take a vacation at our farm and experience the peacefulness and magic of the Norwegian winter.
You`ll get to meet all the different farm animals, pick your own eggs for breakfast, and take part of the daily farm tasks and activities.
DEPARTURES:
On request
LEVEL:
Beginners / intermediate / Advanced
PRICES:
From 2750,- kr pp
Family discounts available, check online booking!
Day 1
You arrive at the farm in the afternoon. Checking into your cozy cabin before getting a tour around the farm.
Your guide will meet you in the stable and you will get to meet your horse, brush him and take him for a ride before your adventure ride the day after. Your guide will show and teach you the basics you need to control the horse and also how to make them ready for the ride. After riding you will then participate in the evening tasks which include feeding, petting and cuddling all the animals before bed time.
Day 2
After breakfast it's time for the morning tasks of feeding the animals and getting them ready for the day. Children can partake in this activity under the supervision of a guide, giving you parents a little longer time to enjoy your morning coffee. When everyone is ready, we start preparing the horses for the trek. Test out your newly learnt riding skills from yesterday`s lesson. Pack your equipment into the saddlebags and we are ready to set off on our cowboy adventure.
Even if it`s a sunny day or snowing, this tour will be an amazing adventure. Listen to the horses hooves stepping in the deep snow, and feel the crispy air on your face sharpening your senses.
Halfway through, we arrive at one of our traditional mountain farms. We feed and water the horses, make a day camp and enjoy a warm meal cooked over the campfire. The guide will be happy to answer any questions. Maybe she'll even have some stories to tell.
Back at the farm we brush the horses and release them out in the paddock to join their friends.
In the evening you have some time to relax or go exploring. Maybe go for a swim in the swimming pool or take a walk in the forest with a headlight and snowshoes. Kick-back and relax and enjoy the farm, sounds and atmosphere, while your kids are kept occupied running around playing with the goats, rabbits, miniature horses, pigs, cows, dogs, cats and so on.
You are welcome to join in the evening farm tasks if you wish
Day 3
The final day is a great day for you to choose your own adventure or partake in another activity that Beitostølen has to offer. Those who want can join the daily farm tasks with the animals.
Ideas for Family friendly activities
Go skiing to our warm Mountain Cafe either with a guide or alone. (See Olebu Mountain Cafe).
Go on a snowshoe adventure. Explore the untouched nature in the woods or mountains. Guided tours are available.
Enjoy dog sledding with the huskies.
We will be happy to help organize some of the nearby activities, and arrange you a program for the day.
Tell us what you are looking for and we will make you an exciting day!
Add breakfast and lunch package for your stay. (Remember to prebook)
Extras: Upgrade your adventure at the farm with a traditional farmer's dinner (remember to pre-book) or you can dine at one of the many fine and family-friendly restaurants in Beiotstølen.

What's included
Experienced guide
Accommodation
Lessons and riding tour
Feed and care for the animals

What to bring
Sleeping bags or hier, Towels.

Who can join
This tour is for all ages. From 4 years old to adults. 
Discover and enjoy this exciting winter holiday package with great farm activities, hands on experiences and horseback riding in the snow.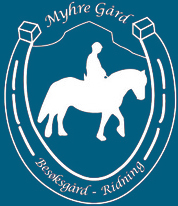 Myhre Gard
Nordheimveien 12
Skammestein 2950, Norway
(+47) 91 52 02 32