3 days expedition in Stølsriket, Valdres
3 days of unique riding expedition in a vibrant mountain landscape.
Expedition in the foothills of the Jotunheimen and Langsua national parks. In an area famous for legendary stories about Huldra and Jotnene. Small exclusive groups.
The perfect tour for those who want to experience the mountains from horseback. We ride across pastures, through birch forests and mountain farms. The horses carry you along gravel roads, trails and over rivers. If the weather is good, there is the option to take a refreshing bathe in one of the mountain lakes we ride past.
DEPARTURES:
On request. Minimum 4 people.
LEVELS:
Experienced riders.
PRICE FROM:
4900,- kr pp
For checking the program of this season, go to online booking!
The tour route goes through easy mountain terrain in the area surrounding Beitostølen. Following dirt roads and small trails, we ride inward through a vibrant landscape, overlooking Jotunheim and Langsua national parks. Each season here provides a unique expedition. In spring time you can experience the blooming flora in the lowlands, and see views of snow covered mountain peaks, reflecting down into icy mountain lakes. In fall, you'll ride through colourful autumnal landscapes, breathe in fresh mountain air, and see mountain tops sprinkled with fresh snow.
Day 1

Arrival afternoon/evening.
Check-in to cabins.
Group dinner at 19:00 pm. We'll give a trip overview and explain about practical information about where we will ride, what to pack, and equipment.
Get to know the farm and meet the horses.
Day 2

We meet in the stables at 09:30 am, after breakfast. Meet your horse, saddle-up, and ride out on trek Take your packed lunch and a cold drink in your saddlebag. Halfway through the day, we will take a break where we enjoy lunch around a campfire. Campfire coffee is served. 
Towards the end of the afternoon, at about 16:00 pm, we arrive at our traditional mountain cabin on the lake side of Olevann. Here we will spend the night. Please note there is no electricity, but a peaceful and comfortable atmosphere is guaranteed! For the adventurous ones, you are welcome to take a swim in Olevann. Dinner is served by candlelight and fireplace in the evening. Outside, the horses graze peacefully on Stølsvollen, in the surroundings of the cabin.
Day 3
Maybe it's the bells from the mountain goats that wakes us in the morning?
We enjoy a delicious breakfast outside the cabin in the morning sun (weather permitting), whilst listening to the silence and sound of sleeping horses in the pasture.
We then start to pack up, and at about 10:00 am we begin our trip back to the farm.
The tour ends with a late lunch at the farm, before departure, at approximately 15:00 pm.
Our experienced guides are very familiar with the area and are well acquainted with the stories of Huldra, Jotnene and Stølslivet from old days to the present. They are happy to share their experiences and stories along the way.
All food and drinks are included. This tour is suited for riders with some riding experience who are comfortable in walk, trot and canter.
For those with less riding experience, but want to join the trip, please contact us and we can arrange a tour for those with little or no experience..
The minimum number is 4 people.
If it's been a long time since you've ridden a horse and want a refresh prior to the trip, feel free to add an extra day or two before the trip. Then you can refresh your knowledge so that you will manage or feel more comfortable being able to follow the level set on the tour.
Do you want to come a day earlier? Greet the horses and relax on the farm. Stay in our cozy cottages on the farm. Check out Accomodation in the menu.
Feel free to add a riding lesson before the ride, if you want to refresh your riding knowledge or try riding different horses in advance.
Want to stay for more days on our farm? Our location provides a great starting point for various mountain trips such as both Besseggen and Torfindstinden. There are many exciting activities to offer in the area, both for children and adults.
See the links below for recommended activitity providers:
Husky tours, dog sledding:
Outdoor activities and ski school:
Boat trips in combination with hiking:
Contact us and we'll help you find a great holiday!

What's included
Experienced guide.
Horse and riding equipment, transport of baggage. All food and drinks. Accommodation


What to bring
In the mountains the weather can be very changeable, even in summer. Therefore it is good to be prepared. See our recommendations HERE about what clothes to wear.

Who can join
The minimum number of participants is 4.
Age limit from 10 years and upwards. 10 to 14 year olds need to be accompanied by an adult.
3 days of unique riding expedition in a vibrant mountain landscape.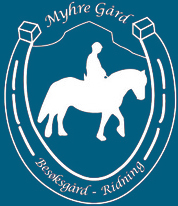 Myhre Gard
Nordheimveien 12
Skammestein 2950, Norway
(+47) 91 52 02 32