HORSEBACK RIDING VACATION IN NORWAY
Riding tours in the heart of Norway.
Within easy reach from Oslo, Myhre Gård offers multi-day activity and riding holidays. Stay on our farm or in a mountain cabin and spend your days riding or exploring Jotunheimen and Langsua national parks. Surround yourself with beautiful nature and the kingdom of the trolls!
We offer riding holidays for all levels of riding experience, from beginner to advanced riders. Choose the length of your stay from 2 day stays, to longer multi day vacations.
Why not combine your riding holiday with other exciting activities in our fantastic area. Let us know what you are looking for and we can help create a tailor made package for you.
Looking for an exciting adventure holiday for your family, friends or partner? Where every moment spent is an experience that everyone gets to partake in, with authentic accommodation, fantastic horses, beautiful scenery and the myths and legends of the Norwegian mountains? Then this is for you!
Our tours are organized so that all of our guests get a true "hands-on" experience. Be part of a team and learn new skills.
Our guides will ensure that you have a safe and unique experience.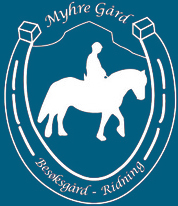 Myhre Gard
Nordheimveien 12
Skammestein 2950, Norway
(+47) 91 52 02 32